How Little Beaver Earth Drills bring versatility and efficiency to municipalities
Municipalities have their work cut out for them. Whether it's city maintenance workers or general contractors hired to sustain parks in a city, town or borough, a day's work can involve several industries' skills rolled into one crew. They can be installing fence posts in the morning, replacing sprinkler lines mid-day and find themselves planting trees in the afternoon.
With this much variety, working smarter, not harder, is paramount to overall productivity. And having versatile tools that allow crews to better utilize labor, safely, while also outperforming other methods, can have a major impact on efficiency. Little Beaver Earth Drills can do just that. Our full line of earth drills enables safe one-man operation with nearly two times the productivity of other units. It's just a matter of finding the Little Beaver earth drill that best meets your municipality's needs.
Here are our two most popular earth drills for municipalities and how they can streamline work for grounds crews.
Mechanical Drills + Boring
If your town or city plants a lot of small greenery, installs several fences or other tasks that require crews to dig numerous footings quickly throughout the year, our Mechanical Earth Drills may be right for you. Perfect for horizontal boring or fast, narrow hole drilling, these drills, like all our drills, allow for safe, one-man operation and have the speed to help crews excel.
With our mechanical drills, users can choose from augers ranging from 1.5 to 16 inches in diameter with 36- or 42-inch lengths. And with multiple gear reduction ratio options, crews can choose a mechanical drill with 360 RPM for loose, soft soils or one with a lower speed that is better suited for dense, rockier formations. With a mechanical drill, crews can quickly install a long row of shrubs and then shift to setting a pole for a basketball hoop in denser soil — all without missing a beat.
To further increase municipal staffs' versatility, we make Horizontal Boring Kits for our Little Beaver Mechanical Earth Drills. These are available in a sidewalk kit, for boring short distances up to five feet long, and a driveway kit, for boring up to 50 feet. The horizontal boring attachment allows grounds crews to install everything from sprinkler systems and lighting wire to drainage pipes and more, all with an easy-to-connect attachment.
Whether horizontal boring or planting a row of shrubs, these tasks, and everything in between, can be accomplished with one crew member thanks to our industry-leading design. An exclusive centrifugal clutch and torque tube eliminate dangerous operator kickback and prevent jarring stops when encountering an obstacle. Additionally, the innovative torque tube redirects torque to the engine carriage instead of the drill's handles. These features make for a winning combination that spares drill components and protects the operator's safety, allowing crews to better utilize their labor.
But, if heavy-duty applications and anchoring are abundant and soil types are consistently rocky and dense, hydraulic drills might be a better choice.
Hydraulic Drills + Anchoring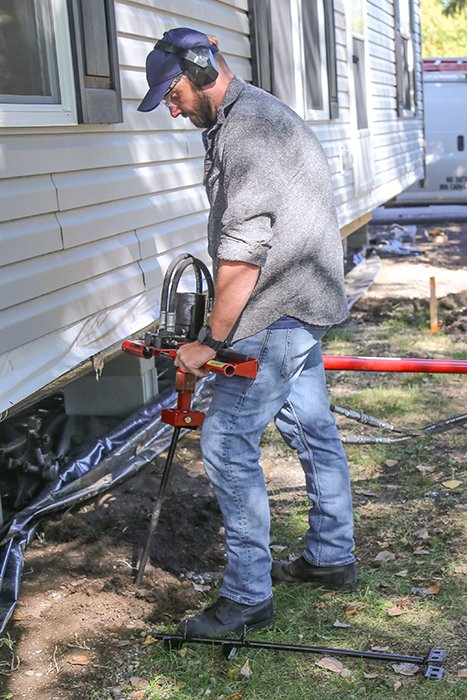 Our Hydraulic Earth Drills, with their powerful torque, are perfect for installing anchors or digging holes for large playground equipment, awning supports, sizable landscaping and other tasks that require deep, wide footings.
These earth drills accommodate augers up to 16 inches in diameter with drilling depths of up to 35 feet depending on the auger. The seemingly endless auger options combined with rugged drill construction and increased torque allow crews to take on lighter tasks like planting landscaping and then quickly shift to heavy-duty construction, like installing support beams for a sunshade. This gives crews the flexibility to divide and conquer whatever their municipality throws at them.
And with the hydraulic drill line, crews don't have to look elsewhere for anchoring needs.  Thanks to our innovative torque tube and precise auger rotation at low speeds, our hydraulic drills are perfect for anchoring. Our Anchor Adapters are available for various applications from anchoring poles and beams to installing tent stakes, making them a perfect, versatile solution for municipalities. By quickly snapping an adapter onto our earth drill's high torque anchor handle, crews have a one-man anchoring machine to secure footbridges, large playground equipment and more — a much safer and more efficient option than anchor crankers.
The extensive tasks that await city maintenance crews and contractors every morning don't also have to mean an extensive set of tools. With a little knowledge about the applications, crews can choose one Little Beaver Earth Drill to carry them through the day — safely and efficiently.