Why the Big Beaver Earth Drill is Ideal for Foundation Repair Projects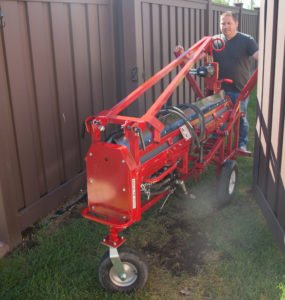 The strength of a structure lies in its foundation. Without a strong base, the entire building is at risk. And even though a house may have initially been built with a sufficient base, foundation repair is occasionally unavoidable.
Foundation problems are most commonly a result of soil conditions. Over time, foundations crack and shift, visibly damaging properties. Visual indicators on a house include misaligned doors, cracks in sheetrock and brick separation. Other signs include warped framing, plumbing breaks and tilting chimneys. Foundation repair is best done at the first sign of damage.
While there are many practices and methods of foundation repair, one thing's certain: if not done correctly, it can cause expensive problems down the line. Little Beaver's Big Beaver earth drill makes the most common foundation repair method easier by quickly removing dirt to prepare for concrete piers.
The Fine Art of Foundation Repair
Steel and concrete pier supports are popular for repairing foundations because they result in minimal landscape interruption and can be installed faster than other methods. Concrete piers can withstand higher load capacities and tend to be less expensive than their steel counterparts.
The concrete pier foundation repair method requires contractors to push 6-inch round concrete sections directly into the ground. But first, the crew must remove dirt to prepare for the foundation pier. Hand-digging holes can result in little landscape interruption but is much harder on workers. Large equipment options like a mini excavator are less labor-intensive but can result in a torn-up yard and increased project costs.
The Big Beaver Advantage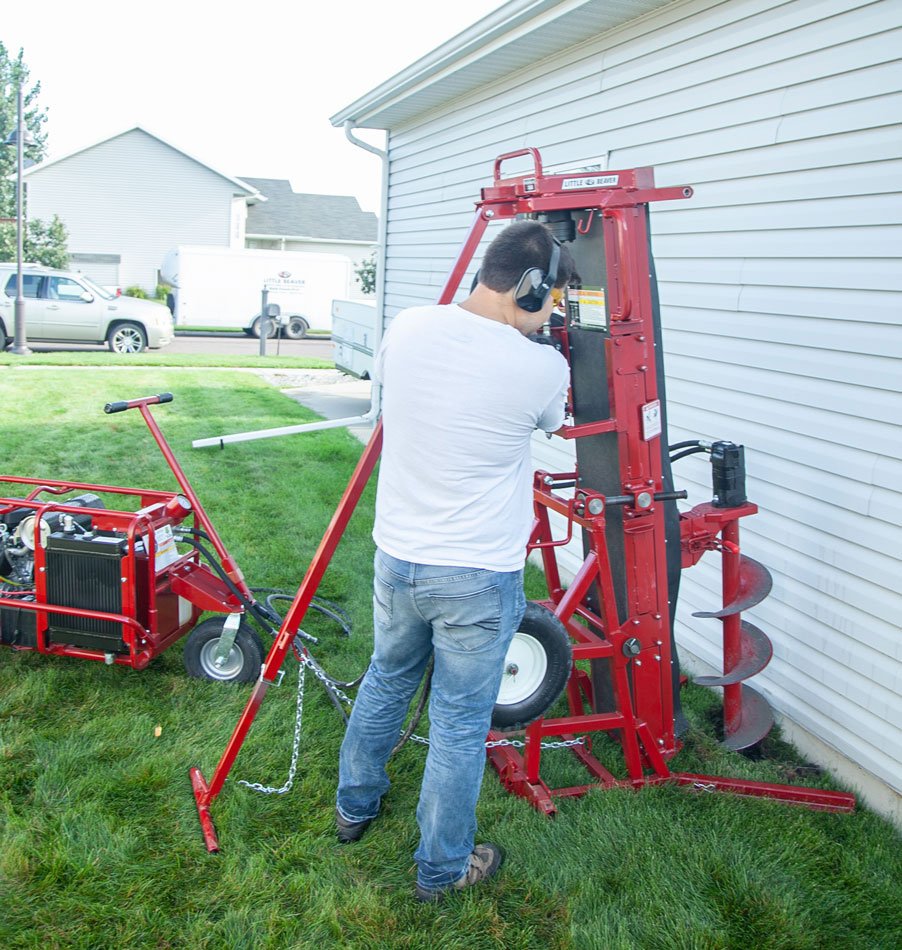 When installing a drilled concrete pier, hard-working employees are key, but so is finding pieces of machinery that are perfect for the job. Crews can use the Big Beaver's 12-inch auger to drill a hole anywhere from 12 to 15 feet deep. Depending on the structure and soil conditions, the angle of the pier can range from 10 to 15 degrees, which makes the Big Beaver's ability to align in any position from vertical critical to the installation process. The drill's flexible positioning also allows users to get close to structures.
The Big Beaver is Little Beaver's most powerful earth drill. Its power comes from its Honda engine, which delivers 690 foot-pounds of torque to bore through any soil type. The drill penetrates the soil considerably faster than other augers and still offers safe one-man operation.
Crews can move the Big Beaver into areas inaccessible to truck-mounted units while also leaving landscaping relatively unscathed. At only 26 inches wide and 80 inches high, the Big Beaver fits through doorways and gates and can be operated under eaves or in interior locations. On level ground, the smooth riding pneumatic wheels provide convenient one-man portability. And, when deep holes are required, auger extensions allow for drilling as deep as 60 inches.
The Big Beaver is a great option for making quick work of preparing for concrete foundation piers. Contact us today to learn more.