UN-Towable Earth Drills
Heavy-duty construction and advanced hydraulics offer premium performance and reliability.
Removable power pack and optional receiver hitch provide additional options for easy loading and transport.
Balanced and torque-free design enhances operator safety and ease of use.
Applications:
Landscaping
Municipalities
Parks and Rec
Sign Installations
Deck Building
Related Products:
Little Beaver has been designing and building some of the best drilling machines for more than 50 years, and the HYD-NTV11H UN-Towable rounds out its complete line of premium earth drilling equipment. The NTV11H is economically priced, without sacrificing the power, efficiency, and reliability of similar towable units, and incorporates heavy-duty construction and high quality components. Featuring a compact design, with multiple transport options, it's a versatile drill that works across various applications, from weekend rental projects to daily fencing jobs. With a rugged steel frame and advanced, robust hydraulic system, the UN-Towable units are designed to reduce maintenance and eliminate repair hassles for years of worry-free drilling performance.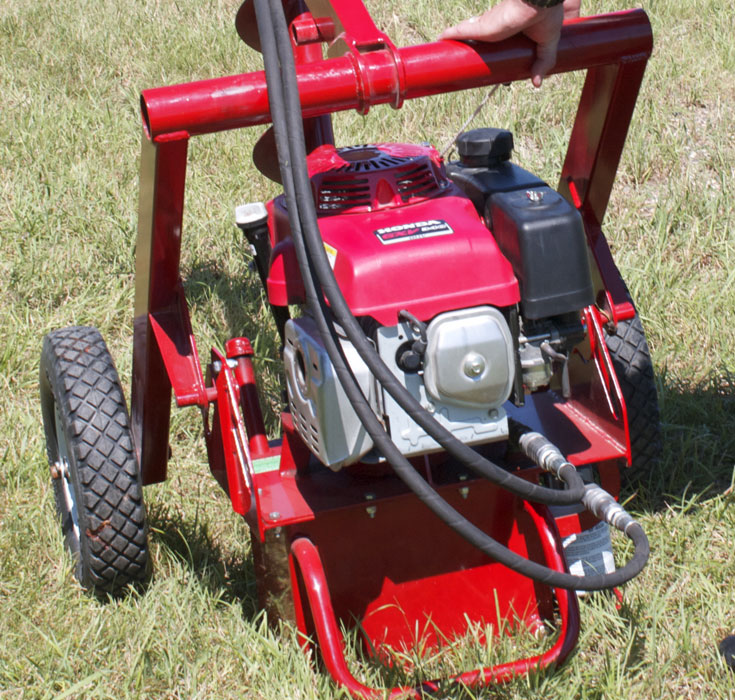 With an 11-hp Honda GX340V engine, the NTV11H is the most powerful drill in its class, edging competitive units with a full 10% increased power advantage. Hydraulic pressure of 2,700-psi enables operating speeds of 141 RPM further enhancing power output.
Equipped with 16-inch semi-pneumatic tires, the NTV11H easily moves across jobsites and pivots into digging position without causing damage to delicate lawns and turf. Because it's easy to maneuver, the drill can operate in places that are inaccessible to skid steer and tractor mounted drills.
An integrated forward and reverse auger rotation component protects you if the auger gets caught under an obstruction, such as a rock or tree root.
To protect from potential injury, a built-in pressure relief valve has been integrated. When the drill reaches a certain hydraulic pressure, the valve releases and the auger stops.
For added convenience, the attached one-man handle enables drilling near buildings and in other difficult-to-access areas.
One person operation and transport makes going from jobsite to jobsite quick and simple. A removable power pack allows you to transport the machine in two parts, reducing the overall weight by 50%
The E-Z load bracket slide-in receiver hitch allows the unit to be hauled by any vehicle that is equipped with a 2-inch slide-in receiver, eliminating the need for a trailer or additional vehicle to transport when truck bed space is tight.
Hydraulic Reservoir Capacity
Dimensions with Folded Handle LxWxH
Welded structural steel tubing and plate