Using an Earth Drill to Safely Speed up Your Do-it-Yourself Projects
If you're working on do-it-yourself (DIY) projects that require digging holes, earth drills exist to make your life easier. Instead of manually digging a hole, earth drills use a rotating spiral auger or pipe with blades attached at the lower end to cut through the soil easily and efficiently.
Whether you've rented before or you're looking into tackling your first project with an earth drill, there are a few factors to consider that can help make the job easier and improve safety during your project.
Why Use an Earth Drill?
Earth drills can be a great solution for DIY projects because of their ability to dig a hole in a matter of minutes without wearing down your body. If you've got deep digging projects for backyard fences, decks or even installing a mailbox post, an earth drill will be a valuable asset. Since all drills from Little Beaver are designed for safe one-man operation, you can truly do it all yourself — no reluctant family members needed!
Mechanical Earth Drill 101
A mechanical earth drill is one of the most common models offered from rental centers because of its tried-and-true performance and user-friendly design. Mechanical earth drills from Little Beaver can take on everything from soft soils to dense, rockier applications and drill small to medium diameter holes. The high auger speeds on mechanical drills make for fast project completion while the lightweight design maximizes mobility. If you're working on a deck, fence or landscaping project such as planting trees, the mechanical earth drill is a perfect choice!
Hydraulic Earth Drill 101
Hydraulic earth drills are a good choice for clay, rock or frozen ground. The durable body and high torque of these drills make them perfect for powerful drilling of larger diameter holes. An added benefit of renting a hydraulic drill from Little Beaver is the reversible drive for easily removing the drill from holes. Although a hydraulic drill can be used for fence building and landscaping just like a mechanical drill, it is also strong enough to handle work with post holes for pole barns, anchoring projects for mobile homes or industrial fencing.
Towable and UN-Towable Earth Drills
Some rental centers might offer more variety in their hydraulic drill selection with the addition of our Towable and UN-Towable models. These units are perfect for those who need the power of a hydraulic earth drill without the operating weight and transportation challenges that can be associated with traditional hydraulic drills.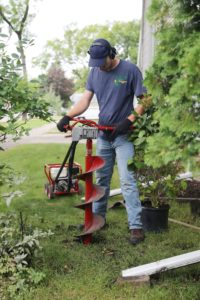 The Towable earth drill can be transported behind any vehicle with a standard hitch using a removable "no-tools" towing hitch, which also saves valuable truck or trailer space. The UN-Towable drill has a removable power pack that reduces the overall weight of the drill by 50 percent. This drill can still be transported on the back of a vehicle, but the wheels hover above the ground during transportation for faster travel speeds and reduced wear and tear on the drill.
Both the Towable and the UN-Towable drill are designed so their frame bears the brunt of the operating weight, not the operator. The "teeter-totter" design allows the weight of the auger to be offset by the engine, lessening the impact on the worker during operation.
Customize Your Drill
With a variety of earth drills available, you can also easily customize the drill you rent based on soil type, hole size and auger speed requirements to make sure you have the best tool to tackle the job ahead. Little Beaver offers several different auger widths to fit a variety of drilling applications and to make your job easier than ever. This can be a good tip to keep in mind as you're working with your local rental center to determine what you need for your project.
Is it Worth the Risk?
Over the years, earth drills have gained a reputation for being both powerful and dangerous. Stories of operators being thrown from the drill are enough to make some DIYers question if it's worth the risk. Little Beaver has been focused on safety from the start and took extra steps to design and patent a system with features to protect the operator, like torque tubes to absorb shock on both mechanical and hydraulic earth drills. These torque tubes work by distributing heavy vibrations and force to the engine carriage instead of the handles so one person can safely and comfortably operate the drill. An additional bonus is that the torque tube reduces effort and fatigue while drilling so you can easily complete a project while hardly breaking a sweat.
Be sure to ask your rental center about proper operation. Earth drills are meant to make your DIY project as easy as possible so you can stay safe and be confident as you drill.