Improving ROI for Rental Centers
At both the collegiate and professional level, great quarterbacks are few and far between — and for good reason. In addition to the hard work and dedication it takes to reach that level of competition, quarterbacks face a slim margin of error on every down. To complete a single pass, a quarterback must know the roles of defenders and anticipate their actions, account for the speed and timing of the receivers, and, of course, make a precise throw into a small and fleeting window of opportunity.
Running a rental center can feel much the same. Discovering efficient, safe and durable equipment, like Little Beaver Mechanical Earth Drills, is a game-changing play.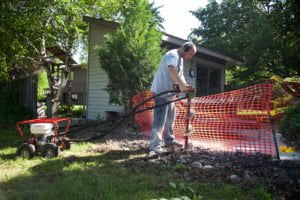 The One-Man Approach
Rental centers should think of equipment in terms of usability. A greater emphasis on user-friendly equipment attracts a broader variety of renters. This is true for both crews looking to supplement their fleet with additional equipment options, and for individuals needing a tool for DIY landscaping.
Little Beaver Mechanical Earth Drills provide high auger speeds — up to 360 rpm — for fast hole digging. Many drills require two operators to mitigate the risk of injury from the torque and kickback associated with the drill's power and speed, but our drills take a different approach. Little Beaver Mechanical Earth Drills feature engines that are mounted on a separate carrier attached to the drill's handles via a steel torque tube. The drill's torque and kickback are transferred to the engine carrier, as opposed to the operator, making safe one-person operation possible. This means you can offer unmatched efficiency for contractors, and a one-operator option for homeowners tackling their own projects.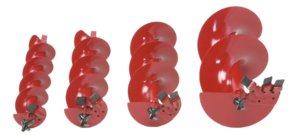 Add Opportunities
Solutions to expand an earth drill's capabilities — and, in turn, your rental opportunities — are another option to consider. At Little Beaver, we offer snap-on augers that take seconds to change, allowing for a quick adjustment to match your customer's drilling requirements. We offer a full range of diameters between 1.5" to 16" in both 36" and 42" lengths, meaning you can provide a versatile line of augers for a variety of rental needs.
Meanwhile, our horizontal boring kits add to our Mechanical Earth Drill's capabilities. These kits give the earth drill capabilities similar to a horizontal boring machine for drilling underneath sidewalks or driveways, increasing the equipment's rental applications.
Benefit from Durability
Equipment repairs inevitably take time to complete. Even a basic repair can lead to as much as a full day of lost rental time both from the renter and your rental center. That's why our Mechanical drills have features such as a heavy-duty transmission and centrifugal clutch to lessen the likelihood of untimely breakdowns. When drilling, it's common to strike rocks, roots and other buried objects. If the auger hits an object, the centrifugal clutch releases, stopping rotation and preventing damage to both the auger and transmission.
Solutions for Success
While quarterbacking a successful rental business is no easy task, finding solutions that increase the gap between revenue and ruin is a great way to work toward this goal. Simple solutions to versatility and maintenance times are among the easiest ways to manage both margins for error and profit margins. Any equipment that can single-handedly increase a business's capacity to take on additional renters while reducing the cost of maintenance is worthy of an MVP award.
To learn more about how rental centers can benefit from our earth drill options, contact Little Beaver today.