Which Earth Drill Features Lead to the Highest ROI?
Versatile equipment is the hallmark of successful rental centers. A good earth drill rounds out the equipment fleet, bringing infinite rental possibilities. It's important to consider all the features of each earth drill before making the final decision on which to purchase. To maximize ROI, rental centers should focus on durable construction, strong safety features, easy maintenance and simple auger installation.
Durable Construction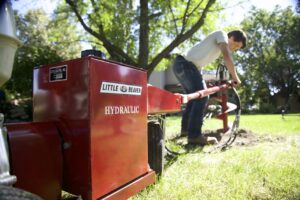 Every rental center needs durable equipment to stand up to years of tough use. It's no secret that equipment that lasts 20 years has much higher ROI than equipment that only lasts 5 years. Wear-reduction features are some of the most important when it comes to extended equipment life. Look for earth drills that feature welded steel plates and tubes. They hold up against hard use much better than other, less durable materials.
Another feature to look for is a centrifugal clutch. When the drill hits a buried object, the clutch reroutes the drilling pressure away from the drill's components to protect them from damage. It's an automatic protective measure and lowers the chance of the engine stalling and requiring repair.
Little Beaver earth drills are manufactured in-house at our plant in Livingston, Texas. This both increases the quality of construction and decreases production costs for customers. Little Beaver thoroughly tests each piece of equipment before shipping with the goal of continually improving each drill and auger.
Ease of Maintenance
Durable construction means nothing if maintaining the earth drill is too difficult for a rental center. At Little Beaver, we design our mechanical and hydraulic earth drills for repair with ordinary hand tools. Quick and simple maintenance keeps the drill out on rent instead of in the shop. Easy access to the throttle, flex shaft, transmission oil bath and other areas makes routine maintenance a breeze. We also offer online maintenance videos for our mechanical and hydraulic earth drills.
Another benefit some manufacturers offer is a free service or technical consultation from the factory itself. Some, like Little Beaver, also offer factory repair. You can return damaged parts to our facility with a description of the problem, and we will repair the item and ship it back to you. Knowing the maintenance and warranty of the earth drills in your fleet ensures you can get the most ROI.
Safety Features
Safety features are essential and a strong consideration for renters choosing a drill. Little Beaver earth drills feature a patented steel torque tube. The torque tube transfers dangerous kickback to the engine carriage as opposed to the handles. This makes Little Beaver earth drills safe for one-man drilling, which is an additional benefit for contractors looking to optimize their crew or DIY customers who are tackling a project alone.
While the centrifugal clutch protects a mechanical drill against damage, it also contributes to operator safety. If the drill's auger encounters an object beneath the surface or if the drill is overloaded, the clutch automatically slips to protect the operator from serious injury.
We incorporate a pressure relief valve on hydraulic earth drills. The pressure relief valve engages if the auger becomes overworked and the drill reaches a certain hydraulic pressure. This automatically stops auger rotation and halts the drill before it reaches a dangerous overload point. The feature increases safety for the operator and prevents damage to the machine.
Easy Auger Changeouts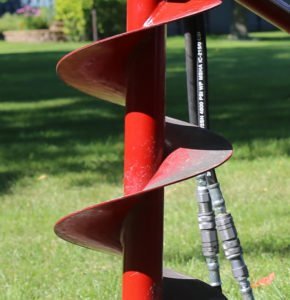 Easy auger changeouts are a great way to get the most out of an earth drill both as a customer and as a rental center. Quick and consistent auger connection options expand the earth drill's capabilities, opening the door to more rental opportunities and applications. Little Beaver augers feature a snap-on connection that allows operators to switch between augers quickly without specialized tools.
The Final Decision
When it comes to deciding which earth drills to invest in for your rental center, the best options are the safest and easiest to maintain. By working with Little Beaver, you can feel confident you're getting strong construction, easy maintenance and the most up-to-date safety features. To learn more about how a Little Beaver earth drill can benefit your rental center, contact us today.