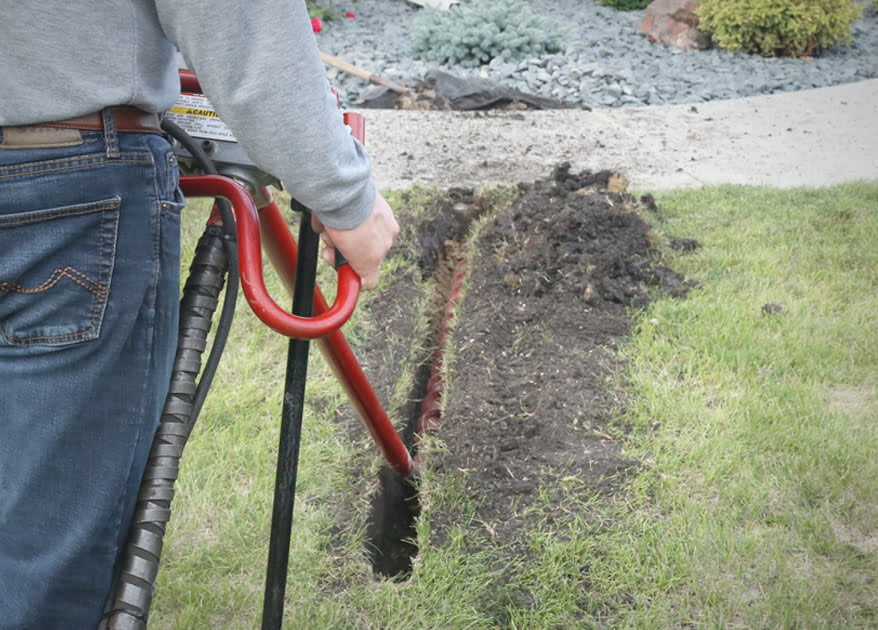 Consider Your Options to Overcome Obstacles
If you have ever installed landscape lighting, irrigation systems or underground pipe in a lawn, chances are a sidewalk or driveway got in your way. Boring under sidewalks and driveways may not be a part of every job you do, but it's nice to know you have a solution for any challenge. All you really need is the right equipment and a little know-how to take on more projects where horizontal boring is involved. With help from Little Beaver's horizontal boring attachments you can overcome obstacles like sidewalks, streets and driveways when installing conduit, pipe and irrigation systems.
Before you start your next project where you will need to bury some lines, consider your options and learn the best practices.
Boring Distance
The first step is to evaluate the size of the project. This will help you know what kind of equipment is best suited to meet your needs. A smaller job, such as boring under sidewalks to connect a water line, lighting or sprinkler system is best done with a sidewalk boring kit that easily bores up to 5 feet. Larger projects — as much as 30 feet — can be tackled with the driveway boring kit. This attachment easily bores under a street or driveway, which makes it ideal for installing underground irrigation systems. After choosing the proper attachment, you can get started with your boring project.
Boring – The Process
Gather your materials: For a project where the dry auger kit will work, you will simply need the kit and your Little Beaver Earth Drill. The wet drilling kit also requires a garden hose, ¾-inch Schedule 80 water pipe and ¾-inch pipe couplings to operate.
Dig a small starter trench: A starter trench is required so that you can get the correct depth and angle as you start to bore. The dry boring kit requires a 6-foot long trench 6 inches below the bottom of the concrete slab. When using the wet auger kit dig a trench 15 feet long. The depth of the trench is important, as a deeper trench will prevent the concrete from cracking while boring. On the opposite side of the pavement from your starter trench dig a short trench to accept the drill as it passes from under the pavement.
Assemble your drill and remember safety first. Drill set up is slightly different for each auger kit — be sure to follow the instruction manual and take the necessary safety precautions.
Our drills are designed to make horizontal boring easier allowing you to take on more boring projects in a shorter amount of time. To complete your next horizontal boring job quickly efficiently and safely watch our attachments in action in these videos. Then contact us to get the horizontal boring attachment that fits your next project and do not let sidewalks and driveways get in your way.