Boost your ROI with One-Man Drills
Between capitalizing on opportunities, attracting and retaining customers, hiring and motivating good employees, fending off the competition and managing expenses, the margin for error is small when it comes to running a business.
Labor and equipment costs are two of the most impactful variables affecting profits for contractors. For this reason, discovering efficient and durable equipment that can also reduce labor costs, like Little Beaver's Mechanical Earth Drills, is a game-changer.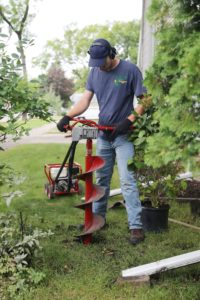 Maximizing Manpower
For starters, wages, benefits and payroll taxes add up quickly. This is why labor is often a contractor's biggest expense. If you run a high-volume digging business, looking at the equipment your crew uses to dig holes is one of the best ways to reduce costs and increase profits.
A lot of contractors use mechanical earth drills to dig holes. While these drills can provide high auger speeds — up to 360 rpm — for fast hole digging, most come with a major drawback. Many fail to protect operators from the torque and kickback associated with the drill's power and speed and, as a result, require two operators to mitigate the risk of injury from an out-of-control drill.
Two or three employees often make up an entire crew, so projects can get off to a slow start when two are tied up digging holes. This is the norm for many contractors. But, with Little Beaver earth drills, it doesn't have to be. Little Beaver's Mechanical Earth Drills feature engines that are mounted on a separate carrier attached to the drill's handles via a steel torque tube. The drill's torque and kickback are transferred to the engine carrier, as opposed to the operator, making safe one-person operation possible.
With equipment that allows for one-person digging, you can free up that second operator to complete other portions of the job. And, the manageable size and efficient design of Little Beaver Mechanical Drills decreases labor costs, increases your crew's capacity to take on more work and jobs get completed faster.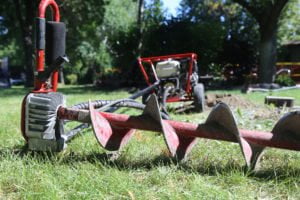 The Proof Is in The Profit
A single residential fence project — an 80- by 40-foot standard backyard wood fence with 8-foot-long sections — requires approximately 20 holes. From unloading the drill to finishing the final hole, this portion of the job takes about an hour for two people to complete. With a Little Beaver Mechanical Earth Drill, however, the work can be completed in roughly half the time while the second person starts on other aspects of the project, such as unloading materials and placing posts.
Ultimately, this can shave as much as 30 to 45 minutes — more for larger jobs — off of the total time it takes to finish the project. Although it may not sound significant, 30 minutes per job adds up quickly and can be enough to help a single crew complete an additional job or two every month. By the end of the busy season, a contractor with multiple crews can take on dozens of additional jobs, adding up to thousands of dollars in revenue.
Solutions for Success
While building a successful business isn't an easy task, finding solutions that increase revenue are great ways to work toward that goal. Simple solutions to reduce labor expenses and project turn-around times are among the easiest ways to manage both margins for error and profit margins. In industries that rely on earth augers, safe one-person drills provide exactly that.
How much could you save with one-man drilling efficiency? Find out with our Labor Cost Calculator.