Boost Productivity Without Tearing Up Greens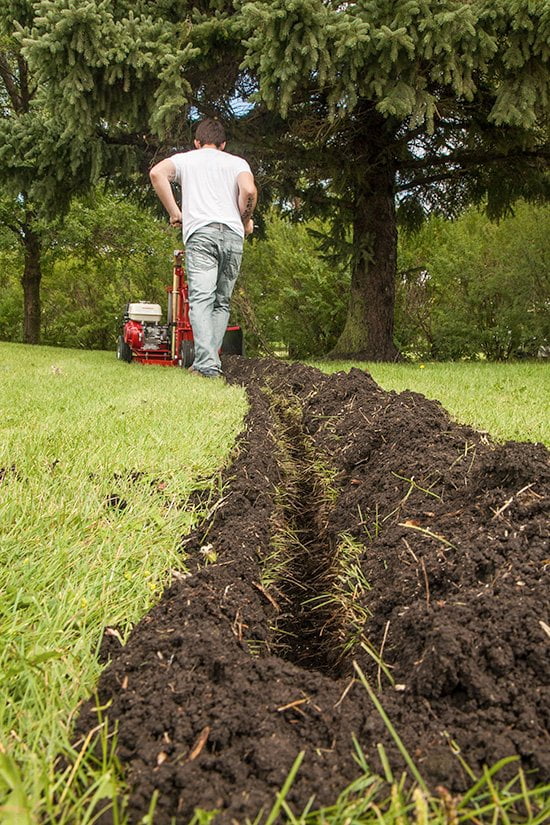 Looks matter — especially in the golf course industry. Maintenance and landscaping improvements are ongoing, but finding an equipment solution that provides maximum efficiency with minimal disruption to the green is key to maintaining that country club appearance. Little Beaver's Kwik-Trench mini trenchers — the KT 200B and KT 2400B — are the ideal solution for boosting productivity without tearing up your greens.
Little Beaver understands that your golf course requires:
Efficiency
Save yourself from backbreaking and time-consuming work. The Kwik-Trench effortlessly cuts 30 feet of trench per minute. Powered by a 5.5-horsepower Honda engine, the KT 200B achieves 8-inch depths and its carbide-tipped teeth produce a trench from 1 to 3 inches wide. An 8-horsepower Honda engine powers the KT 2400B for cutting trenches as deep as 12 inches while its carbide tipped teeth produce a trench 1 to 4 inches wide. Both models make backfill 50 percent faster by directing soil to one side of the trench, instead of both sides.
Enhanced aesthetics
Protect your course's beauty against soil cupping that can occur after backfilling wide trenches. The narrow trenches created by the Kwik-Trench require minimal backfill, which reduces the chance of cupping and helps ensure consistent grass growth. Designed with your turf's appearance in mind, mini trenchers also feature pneumatic tires that virtually eliminate damage caused by tracked machine or skid-steer type trenchers.
Easy use
Its compact body and push-forward capability allow greenskeepers to maneuver easily in tight spaces while pruning tree roots as thick as 10 inches in diameter. The push-forward operation also enhances safety by giving the operator a clear view of what's ahead. By contrast, trenchers that require the operator to pull it while walking backwards add the risk of tripping and falls, which might cause costly workers' compensation cases.
Little Beaver designs the Kwik-Trench for minimal maintenance by protecting key components. Its built-in slip clutch, for example, protects the drive train from shock if the trencher hits a rock or other obstacle. Maintenance is further reduced with blades that are quick and easy to replace. The Kwik-Trench also features Little Beaver's Super Blade Plus and Super Xtra Rock Teeth, which bolt on to the cutting wheel making replacing the teeth simple and inexpensive. Other manufactures weld teeth directly on the cutting wheel causing the entire wheel to need replacement when a single tooth is damaged. The Kwik-Trench also features a triple V-belt system that maintains positive traction if the trencher encounters an obstruction. This reduces wear on belts as well as need for frequent belt replacements.
Improve your course's quality in minutes with a Little Beaver Kwik-Trench. Contact us for questions.