Big Beaver Auger Drill Rig
Big Beaver Auger Drill Rig
One-man portability with truck-mounted power
2,500 lbs. lifting capacity
Drills 6″ diameter holes up to 100′ deep
Turns augers up to 18″ in diameter
Applications:
Soil sampling
Drilling environmental test wells
Foundation repair
The Big Beaver is the most powerful earth drill produced by Little Beaver, the leading manufacturer of torque-free, one-man earth drills. Ideally suited for drilling environmental test wells, soil sampling and foundation repair, the Big Beaver offers one-man operation and portability in areas inaccessible to truck-mounted units.
The Big Beaver is designed to work with 4″–18″ D-series augers. When deep holes are required, auger extensions can be added to let you drill down to 30′ with a 16″ auger and up to 100′ with a 6″ auger, depending on soil conditions.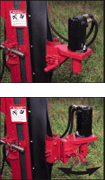 The convenient swing-away drive head makes adding auger extensions or using sampling tools in hollow stem augers fast and efficient.
A lift ring on the auger adaptor makes quick work of pulling augers, eliminating the need for precise alignment.
When removing an auger from a hole, the optional auger fork securely holds the auger and extensions while disconnected from the drill head.
The Big Beaver is hydraulically driven by the Hydraulic Power Source. This compact power unit features an oil cooler with 10″ fan and a 4 gallon fuel tank for dependable, all day operation. Not only does the Hydraulic Power Source efficiently power the Big Beaver, but it also serves as an attaching point for the torque tube. For added versatility, the Hydraulic Power Source can also be used to power other hydraulic tools, including concrete saws, breakers, tampers and chain saws. Engine options include an 18  20 or 24 hp Honda.
The Big Beaver works in areas mounted drills can't possibly fit. At only 26″ wide and 80″ high, the Big Beaver fits through gates and doorways and can be operated under eaves or in interior locations. On level ground, the smooth riding pneumatic wheels provide convenient one-man portability.
Foundation Repair
The Big Beaver excels at foundation repair, efficiently drilling pier holes up to 16″ in diameter. A simple crank mechanism lets you align the mast in any position up to 15 degrees from vertical. An optional belling tool is used to create an under-reamed footing at the bottom of the foundation pier hole.

Soil Sampling
When it comes to taking soil samples in remote locations, the Big Beaver is the ideal solution. The optional Cathead Kit makes soil sampling or performing soil penetration tests with a drop hammer driver and split spoon sampler fast, convenient and economical.

Big Beaver Soil Sampling Options
Hollow Stem Augers
Little Beaver's ultra-light hollow stem augers are built for speed and durability. Available in 6″ and 8″ diameters, these augers can drill up to 32′ deep.
Split Spoon Sampler
Commonly used with the Cathead Kid, the split spoon sampler provides a 36″ soil core sample.
Safety Hammer
The 140-pound safety hammer is used to drive the split spoon sampler.
Cathead Kit (SSK-I)

The Cathead Kit is used for taking soil core samples. The kit consists of a tower kit, third hydraulic valve and spool.

Specifications
BIG BEAVER
BIG BEAVER XL
Construction
Frame
Welded mechanical steel tubing
Frame
Welded mechanical steel tubing
Mast
1.5″ diameter drive screw and structural steel angle
Mast
1.5″ diameter drive screw and structural steel angle
Drilling angle
Infinitely adjustable 0 to 15 degrees from vertical
Drilling angle
Infinitely adjustable 0 to 15 degrees from vertical
Stabilizer
Torque tube
Stabilizer
Torque tube
Hydraulics
Auger Speed @ 10 gpm*
160 rpm
Auger Speed @ 10 gpm*
160 rpm
Auger Speed @ 12 gpm*
190 rpm
Auger Speed @ 12 gpm*
190 rpm
Drilling Torque*
520 ft*lbs
Drilling Torque*
520 ft*lbs
Max. Drilling Torque
690 ft*lbs
Max. Drilling Torque
690 ft*lbs
Raising Capacity
2500 lbs.
Raising Capacity
2500 lbs.
Hydraulic Valves
2
Hydraulic Valves
2
Drive Head Travel(inches)
60
Drive Head Travel(inches)
72
Maximum Auger Size (inches)
18
Maximum Auger Size (inches)
18
Dimensions
Height (inches)
80
Height (inches)
92
Length (inches)
48
Length (inches)
48
Width (inches)
26
Width (inches)
26
Shipping weight (inches)
540
Shipping weight (inches)
* Specifications with standard motor displacement (14.9 cu. in./rev.)